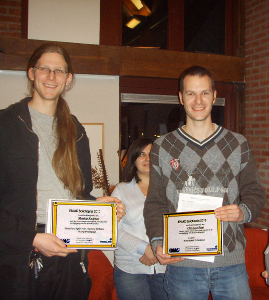 Last week, my Master's thesis was awarded with the ENIAC Thesis Award 2010. This is is an award for the best-written and most scientific Master's thesis for Computer Science (and related masters). The prize is awarded by ENIAC, the alumni club for computer science.
This award came quite unexpected to me. Apparently my thesis (together with Christiaan's thesis, which discussed the same subject) was nominated by our graduation comittee. I had also not actually expected to win, so that was quite cool.
The award consisted of a nice certificate and a cool sculpture by Lei Hannen. As an extra surprise, it turned out there is also a €500 money prize associated wit this award.
According to the jury rapport, our thesis were awarded because of the novelty and the new research area they open up. Additionally, my thesis was commended for the excellent use of English. Cool :-D