Right now, it's totally crazy weather outside. It's no longer raining, it is more like a solid block of water floating around. With multiple lightning flashes every second and a river of water flowing through our street, it's kind of hellish weather. Anyway, I have pictures and a few movies of it (they are a bit fuzzy because of the darkness, unfortunately, I didn't manage to use the lightning as a flash for the pictures :-)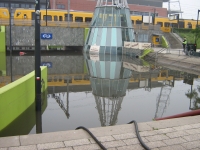 Update: Tipped off by Brenda (Who is in the train to Amsterdam now, I took some pictures of the Enschede Drienerlo train station. Last night, after the rain, a flatmate reported that the water was knee-high in the tunnel under the station. During the night, physics has again proven its worth: Water always flows to the lowest point.
For those who don't know the station, there used to be a tunnel underneat (you can still see a few centimeters of it) that is about four meters high. Yeah, that's a lot of water indeed. Anyway, more pictures (scroll down).