Making an old paint-mixing terminal keyboard work with Linux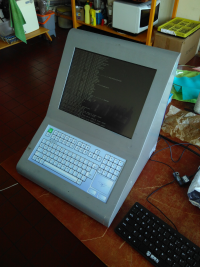 Or: Forcing Linux to use the USB HID driver for a non-standards-compliant USB keyboard.
For an interactive art installation by the Spullenmannen, a friend asked me to have a look at an old paint mixing terminal that he wanted to use. The terminal is essentially a small computer, in a nice industrial-looking sealed casing, with a (touch?) screen, keyboard and touchpad. It was by "Lacour" and I think has been used to control paint mixing machines.
They had already gotten Linux running on the system, but could not get the keyboard to work and asked me if I could have a look.
The keyboard did work in the BIOS and grub (which also uses the BIOS), so we know it worked. Also, the BIOS seemed pretty standard, so it was unlikely that it used some very standard protocol or driver and I guessed that this was a matter of telling Linux which driver to use and/or where to find the device.
Inside the machine, it seemed the keyboard and touchpad were separate devices, controlled by some off-the-shelf microcontroller chip (probably with some custom software inside). These devices were connected to the main motherboard using a standard 10-pin expansion header intended for external USB ports, so it seemed likely that these devices were USB ports.